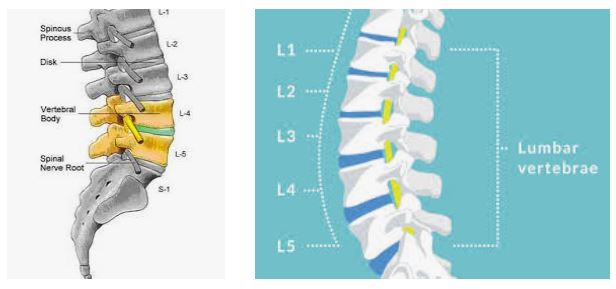 Last week I had a very interesting experience of healing a person who was suffering from lower back pain for a very long time. This post is to give you an insight on how it happened.
A 63 year old man approached me for healing from his back pain. He has been suffering from pain for many years and finally got his medical scans done which clearly showed gaps in L4, L5 vertebrae. When he decided to go for treatment, one of his friend who's a doctor advised him not to go for conventional medical treatment but instead try alternate medicine.
I agreed to treat him and due to the pandemic, told him that I would not be able to do a personal session, instead we would have to connect on video call. I assured him that the technique works on video call as well since the principles of quantum healing work beyond the constraints of distance, space and time.
I asked him about the pain and he told me that although usually the pain is much higher, that day it was moderate pain in the lower back. I started by telling him about the fact that in most cases, this pain is due to vaat pressure getting stuck in the spine.
According to   ayurveda, vaat is the mechanism of the body that uses pressure to create various types of flow in the body. When there is an imbalance in vaat or there's a blockage of flow, the pressure builds up in that part, creating pain. Sometimes the pressure builds up to that extent that it starts pushing the bones out of place, thereby causing gaps in the vertebrae which had happened in his case.
I told him that very soon I would start listening to his body's communication using my palms and then his body would start making the necessary corrections and changes within. If this happens, he would experience indicators of vaat release in his body which is usually experienced in the form of gas release i..e Burps or Farts, else in the form of Hiccough, Yawns, Sneezes, tears or salivation.
Once I started treatment, within about 2-3 minutes, he started feeling tingling in his arms which indicated that some flow had started in his body. Very soon he started feeling some shift within and told me that his upper back had started paining. I told him that this was a good sign since it indicated to me that some of the stuck vaat had started moving up in the process of getting released from the body.
Soon, the pain moved towards his shoulder and then his chest, and in the next two minutes, he burped. That was an indication that some trapped vaat had moved out. He immediately felt a slight reduction in the pain. The temporary pain in the upper back and shoulder had gone and the lower back pain too was lesser. As I continued the treatment, there were 4 more burps and 3-4 times he released gas in the form of farts.
Very soon he started salivating and yawning which indicated that there was further correction happening to harmonize the vaat. After 10 minutes more and a few more burps and farts, I stopped the session and told him to monitor himself for the next 12 to 24 hours. I told him that his body would probably continue with the vaat pressure release during the rest of the night.
Next day he spoke to me in the morning and told me that his back pain had completely vanished. He was feeling much lighter and better. Inspite of spending some time in the garden with his plants, he did not feel any pain in the back, which he said he would usually feel in the morning.
I did one more healing session for him during which he kept continuously yawning which was an indication of vaat correction. There were 3-4 more burps, indicating that some more residual vaat pressure was getting released. He realized that he had got cured from the pain in a single healing session. I was glad that as always, quantum healing helped him heal his body instantly.
If you wish to learn this wonderful technique, drop me a mail on sachin.karve@gmail.com and I will be able to teach you this technique on Video call in a duration of about 2 hours. You can also get guidelines from my book ' Instant Healing for Self and others' that is available on Amazon Kindle.
Please follow and like us: