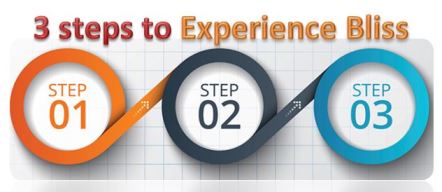 I have written this post keeping in mind the following two types of people:
1.  Those who are interested in becoming a Healer using the No Mind state of Bliss or the Zero Point.
2. Those who are keen on experiencing a deeply blissful state of presence in just a few minutes and eventually experience eternal bliss in their day to day life.
For both of the above, we simply need to achieve a state of 'No-Mind' where we are present at the deepest level of existence. At that state, healing self and others happens spontaneously.
Many people keep struggling to reach the point where they can experience a state of Bliss and end up trying various approaches to achieve this state. Fortunately there are hundreds of books written on this topic, however unfortunately most of them have made this process too difficult to understand and too cumbersome to practice. The process has been made too complicated by most experts. People simply get lost following several complicated processes and rituals, chanting, meditation, visualization etc and finally give up.
The need of the hour is a simple, straightforward and easy to practice method to experience bliss. Healing will come to you naturally and effortlessly just like a side effect. This post will introduce you to the simplest way to experience bliss in three easy steps as explained below.
What is important to note here is that the key factor that needs to be present throughout the process is 'AWARENESS' .
Without awareness being present throughout, we will get nowhere. So, here's how to do it.
Step 1: Become aware of your Body for 2-3 minutes or slightly more. Being aware means simply putting our attention to our body parts either one by one or together.  Best is to sit at one place and be aware of the body, breath, clothes touching the body, body touching the chair etc.  Simply do this for 2-3 minutes or more and you'll experience a certain  feeling of Joy somewhere in your body and mind. This is typically a feeling of calmness, peace and happiness that you will feel within few minutes. It is often a feeling of lightness where your thoughts have drastically reduced. There will be a gentle smile on your face. For this, you could simply maintain awareness on your body or any slow action that you are performing. Even rubbing your tongue gently to the upper palate of the mouth is good enough to make us aware. doing this will deeply anchor us to the NOW/ PRESENT MOMENT , thereby creating a feeling of Joy . So, basically to sum up step 1, maintaining BODY AWARENESS for just a few minutes creates JOY. At this stage we are ready for step 2.
Step 2: Become aware of the feeling of JOY that you have felt in step 1 for 2-3 minutes or slightly longer, and within minutes you will experience a feeling of stillness and deep sense of calmness within yourself. You will feel very still, centered, deeply calm and peaceful, you might feel secure, complete, as steady as a rock and very stable. You will feel as if you have become immovable. This feeling is especially felt in the lower part of the body or at the base of the spine where we feel centered. So to sum up step 2, Maintaining AWARENESS of JOY creates STILLNESS. At this stage we are ready for step 3.
Step 3: Now simply become aware of the STILLNESS that you have started experiencing within and within a short while, say 2-3 minutes you will experience a deeply blissful feeling of mindlessness and bliss. This is a state where you might feel a complete absence of thoughts, no identification with the Ego, a sense of security and one-ness with everything around. It is a feeling of Unity (Advaita or Non-Duality) with the universe. This is often a floating feeling and you might feel as if you are endless. NO start, No end, just seamlessly present united with everything around. There's an unbelievable feeling of Stillness, Feeling of being rooted deeply into the universal energy, a feeling of being seamlessly connected with everyone and a BLISSFUL feeling due to the state of No-Mind. It is a state where we experience our inner spirit. So to sum up step 3, Maintaining awareness of STILLNESS will create the state of BLISS.
To sum up the entire process, have a look at the figure below: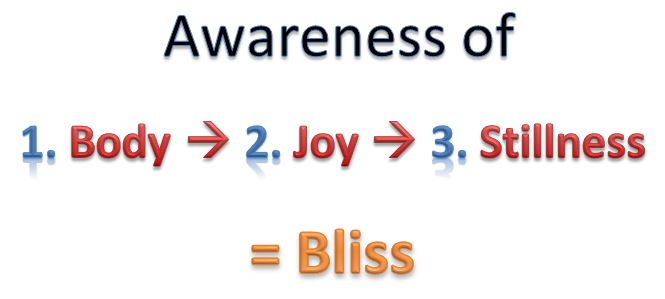 Once you learn how to reach stage 3 and have successfully done it a couple of times, you will find that the process now becomes easier as your awareness learns to identify the trigger of each state easily i.e. Awareness of Body, Joy and Stillness. You will learn to spontaneously and effortlessly get into step 3 which is Bliss very quickly and almost at your will.
Once you achieve this state of Bliss, You can do healing for anyone using the Triangulation method that is explained in an earlier post dated 20th July 2019. (Being aware of 3 points i.e. Point A on the Body of Patient, Point B on the body of the patient and Point C which is your state of Bliss. ). Instantly healing will happen without you doing anything.
Try this and let me have your feedback. Would love to hear from you.
Please follow and like us: