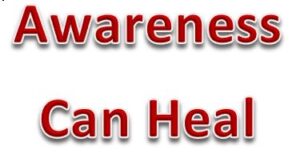 When I tell people that awareness is the only thing that a body or anything for that matter requires to create instant healing, a frequent question that people ask me is that how can we create a state where we can feed our body or anything else with awareness or consciousness.
Well, the answer is simple. Actually, when the mind's chatter stops and it becomes completely still, our being automatically gets into a very receptive state. We are then able to actually listen to the voice of the body, not by our ears but by our sensory acuity. This listening happens by all of our sensory organs.
Simply listening at the highest level then creates healing. You might have noticed,  when a child has a problem, the child cries. At that time, very often, if we simply give the child our attention, listen to him/her and try to understand what he/she wants to say, the child becomes silent. The problem is solved.
Always keep in mind that our awareness or consciousness is the key to good health. In all healing techniques one thing is common and that is the presence of awareness.
Also, an interesting thing to note is that when a body needs awareness, whether you yourself make it available for your body or whether someone else makes it available for your body, it doesn't matter. Your body will simply gladly accept that awareness and quickly heal itself. This is because Consciousness is non dual. It is ONE and belongs to the universe.  Rather it's a part of the universe. There's nothing like Your awareness and My awareness. The source might be different but it remains the same in its one-ness.
So when I do healing for others, I know that they are probably not giving their bodies the required awareness and so I get into a deep state of awareness and provide my awareness to them as a gift with love. Awareness and Love is a deadly combination to kill all kinds of Pain and suffering. (Refer to my post on Heart Energy Healing dated 6th July 2019 and you'll know how the scalar energy of Love can heal)
I simply get into a still state of mind and listen to the others body-bio-field using my sensory acuity. Then in that moment my awareness. I automatically get into the Zero point and healing happens at the deepest level.  Once Awareness and love is fed to the body, the magic of healing happens.
If this sounds interesting to you, then connect with me and I will be glad to teach you how to do this.
For more information on this and two more healing techniques, you can refer to an e-book that I have published on Amazon. The link is as below:
Please follow and like us: