Time is a resource that if managed well can significantly impact one's productivity and success in life.
For every individual, the following two factors are important in life..
Effectiveness – i.e. Achieving the desired End-Result or Objective
Efficiency– i.e. Doing it in the minimum possible inputs or resources
Effectiveness is achieved by being focused on the Goal and then doing whatever is required to achieve that goal.
In contrast, Efficiency is defined as the ratio of Output to Input.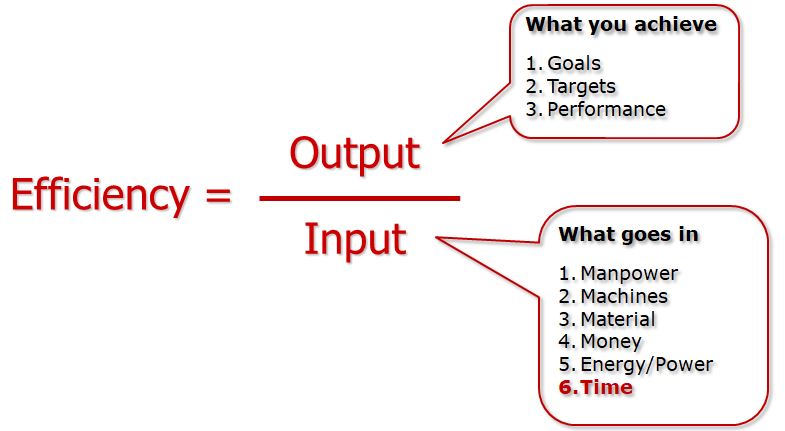 In order to increase efficiency, we need to either
Increase our output for the same input.. or
Achieve the same output, but with a decrease in the inputs.
If you closely look at all the inputs shown in the figure above, you will realize that we can manage / adjust/ manipulate/ reorganize all other inputs except Time.
Time is a resource that cannot be managed at all. We can't save a bit of time today and use it tomorrow. It just comes and goes. 
The reality is that we cannot manage time, instead we have to manage ourselves within the available time.
In this post, I am listing 20 guidelines that can help one manage time better. For many of these points, a separate detailed post will follow.
We need to first change our attitude towards time. We must start valuing time, i.e our own time and other's time too, by being punctual and disciplined.
We need to be clear on our goals- both long term goals and short term goals.
We need to identify where our time goes by writing a time log so that we become aware as to where we are spending our time and what proportion of our time goes in value adding and Non value adding activities.
We must start our day by writing a To-Do list of all activities that need to be accomplished during the day.
Once a To-Do list is made, we must prioritize tasks based on certain criteria and then pick up tasks to do based on their priority.
We must keep ourselves focused on the list and keep crossing / checking tasks as we complete them. Unfinished tasks must be moved to the next day's list with a revised priority.
We must invest time in activities such as Planning, Organizing, Scheduling, Relationship building, Forecasting, Budgeting etc, which happen to be Q2 activities of the Time Matrix (I will explain this in a separate post)
We need to identify Time Wasters i.e. tasks that we spend time in regularly, which are neither directly nor indirectly related to our goals.
We need to figure out different ways that can help us complete our tasks in lesser time. Innovating the process can help us achieve reduction in time.
Before making time commitments to others, we must do a realistic assessment of how much time the activity would take and then accordingly make promises to others. If required keep a small buffer to save you just in case there are delays.
We must identify our Prime Time i.e. the time of the day at which our body is at its peak energy level.  Then we must do our toughest tasks during our Prime Time.
We must learn how to Multi-task effectively. Multitasking is a very misunderstood concept. In a separate post, I will try to explain what is the correct way to Multi-Task.
We must start delegating certain tasks to others (Our family members or subordinates/ colleagues at the workplace). However it is important to first train them on performing that task well.
We must avoid procrastination of tasks. The ones that are difficult or overwhelming are often pushed ahead. We must break them into smaller manageable chunks or convince ourselves of the benefits of accomplishing them.
We must consciously keep ourselves away from people who kill our time i.e. distract us from our goals and end up wasting our time.
Once we pick up a task to complete, we must learn how to deal with interruptions and how to maintain continuity after an interruption. At times we must isolate ourselves during certain tasks to avoid being interrupted and disturbed by others.
We must keep a check on our time spent on Social Media (Facebook, WhatsApp, Instagram, Twitter etc) which can be major distractions.
We must create checklists to remind us of tasks, use reminders, alarms or Pop-ups to ensure that we don't forget important tasks.
We could use Online services such as Online Banking, Shopping etc which can save us a lot of time that would otherwise go in traveling, parking and physical movement.
We need to understand the Pareto Principle 80:20 Principle i.e. we need to focus on those 20% tasks that make an 80 % impact on our life
Remember that yesterday is a cancelled cheque, tomorrow is a promissory note. Today is the only CASH that you have. so spend it wisely.
Please follow and like us: