For any individual to be successful at the workplace or in personal life, the ability to work together in interdependence with others is absolutely essential. We must have the ability to operate in synergy with our stakeholders.
We call this skill as Interpersonal skill.  Although we call it a skill, in reality it is a Competence and like every other competence it has a Knowledge, Skill and Attitude component.
Knowledge about people, their background, preferences etc,
Skill to interact, get along with others, deal with conflict, collaborate and
Attitude of genuineness, love, concern, caring, trust, empathy, forgiveness,
At the core of all this, however lies the ability to quickly build 'Rapport and Relationship' and maintain it over the years.
There are very few professions where one would not need to work together with others. From a peon to director, everyone needs to interact with people (colleagues, seniors, subordinates, people from other departments, vendors, Service providers etc)
Unfortunately, people don't give enough importance to building good relationships and therefore are unable to achieve desired level of success.
I believe that one must invest time in building relationship as the first step in any activity be it at work or at home. I have noticed that the biggest of big problems can be resolved if our relationship with people are good whereas the smallest of small problem can give us enough headache if our relationships are  bad. What this means is that the size of the problem actually doesn't matter. What really matters is the quality of our relationships.
Lot of people believe in building need-based relations. They maintain connect only when in need. After their job is done they don't bother to maintain connect. When such people call up someone and talk sweetly, the other person knows that this sweet talk is momentary and only to get some work done. It is more or less a conditional relationship, just to get /take something from others. I don't think these kind of relationships really work.
Good relations are built based on a foundation of giving and not taking.
I recently came across a very insightful article by Dr. Frank Kinslow and here's what he has written ..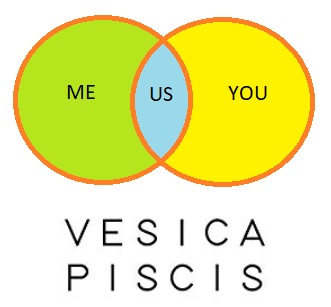 *You-Me-Us*
(By Dr. Frank Kinslow)
A connection between two people is actually all about three entities.
For instance if you and I are friends, then there is the "you" entity, the "me" entity and, where we two overlap and bond, the "us" entity.
You are responsible for you and I am responsible for me and we are together responsible for that part of our lives that overlap and influence each other.
I like to represent this you – me – us triad as two overlapping circles with a shared common area between them.
The overlapping "we" area is often referred to as a vesica piscis revealed in varied disciplines from science to religion.
We are individuals beyond our relationship but when we come together we create a synergy far greater than the sum of our individual lives.
The "us", the vesica piscis, is a vibrant, seething, presence which is created when we merge and it can live long after we separate in the moments and the memories of all those we have touched.
So what we bring to a relationship is of ultimate importance.
If the 'YOU' and the 'I' come to take from each other, they create a wounded vesica piscis, distorted by their own cravings. Those distortions are amplified many times over and are ultimately damaging to both and all that we touch.
If one of us comes to give and the other take the vesica piscis is healthier but still wanting.
However, when both come together with the idea of giving the vesica piscis miraculously transforms into an ocean of love and out of this love new and wonderful worlds are created. When we enter a relationship aware of our united non dual spirit, giving is the natural result. It really is the most amazing experience two people can have.
Unfortunately, Humans are losing the ability to give effortlessly and unconditionally. But that is easy to fix. It is after all our natural state of being.
We simply need to let our essence mingle and merge with the essence of others. Then, awash in the waves of mutual love, turn to the next waiting heart. – Dr. Frank Kinslow
Have a fantastic week ahead and build wonderful relationships that will last a lifetime.
Please follow and like us: