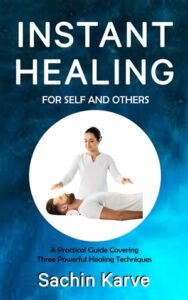 I am glad to inform you that I have recently published a book on Instant Healing for the benefit of those who intend to heal themselves and others from variety of illnesses, and that too Instantly.
Heal INSTANTLY? Yes !! You have read it right. You will be able to heal yourself as well as others, and that too almost INSTANTLY.
If you understand the fundamental principles of how healing takes place, and follow the simple guidelines given in this book, you will be able to heal people practically within 10 minutes of reading this book, with as short as 5-7 minutes of treatment. As per my experience with healing 600+ people with various illnesses, the healing process begins instantly, the signs of which are seen immediately by the healer, and also experienced by the person being treated.
In the last four years, I have successfully used these healing methods on people facing various health issues such as Knee pain, Back pain, Frozen shoulder, Headache, Migraine, Digestive disorders, Constipation, Acidity, Gastritis, Indigestion, Ear Ache, Throat Pain, Menstrual Cramps, Irregular Menstrual cycle, Tooth ache, Skin problems, Cervical spondylitis, Slipped Disc, Varicose Veins, Twisted limbs, Sprains, Swellings, Injuries, Fractures, Wounds, Heel Spur, Sinus related Problems, Stomach Ache, Liver disorders, IBS, Psoriasis, Stiff fingers due to Arthritis, Sciatica problems, Vertigo, Thyroid issues and even early stage of Cancer.
With just 5-7 minutes of treatment, more than 50 % cases got cured instantly. 30 % reported complete relief in the next 12-18 hours. 10 % needed 1 or 2 more sessions to get full relief. For remaining 10% cases, healing happened not where they expected, but in some other area of their life that was probably more critical, considering the bigger picture, which they had not even mentioned to me.
These healing methods, do not require us to know anything about medicine, human biology or how healing happens. Even a five year old child will be able to successfully heal others. A person of any age, experience, gender or background can be a healer. It has also got nothing to do with one's religion or beliefs about God.
If this sounds exciting to you, and if you are wondering whether you will be able to become a healer, let me tell you that this is an ability which all of us are born with. It is just that we are unaware of this inborn talent and live our life with a very limited belief of our true potential.
In this book, I have explained following 3 Healing Techniques:
T1- Heart Energy Healing
T2- Healing by listening to the Body
T3- Zero Point Healing
T1 and T2 are so simple that you can start using them successfully within 10 minutes of reading the relevant steps.
Along with the fundamental principles, I have also clarified everything that you will need to know and do while you are healing yourself or others. To help you with this, along with a detailed description of each method, I have also given a number of actual healing experiences that I've had in the last 4 years. This will give you an understanding of what you too can expect when you do the healing process.
I assure you that reading this book will give you the skills to instantly heal people and as you practice, you will keep getting better with it. As you continue practicing these techniques, further possibilities will automatically start opening up and you might probably be able to do what we commonly call as the 'impossible'.
I assure you that the time, money and energy that you invest in this book will turn out to be one of the most valuable investments of your life.
The link to access this book on Amazon is as below
Please follow and like us: